Best Backpacking Chair
After a long grueling hike nothing is better than being able to sit in the Best Backpacking Chair. Sure, you can sit anywhere but how comfortable is a twisted log or bumpy roots and a stump?
You already have a sleeping pad. Why not use it for another purpose? The idea of backpacking is it to travel light and try to use one item as several. That way you do not have to carry several items, just the one.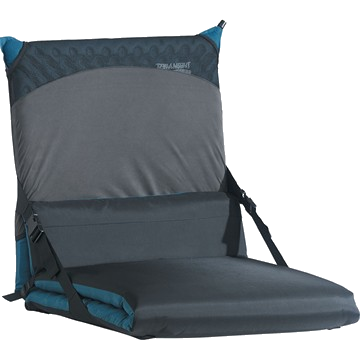 I found the ideal solution to having a comfortable place to sit. The Therm-A-Rest Trekker Lounger is a nylon receptacle that holds your sleeping pad in the shape of a chair. The back is adjustable by nylon straps and buckles to allow you to find the perfect angle to support your back in all kinds of terrain.
The Therm-A-Rest Trekker Lounger comes in 2 sizes to fit all the sleeping pads in their inventory. One is for pads measuring 20 X 72 inches and weighs 18 oz., the other is 25 X 78 inches and weighs 24 oz. You can even find the size that will fit your non Therm-A-Rest pads.
To use the chair kit simply fold your sleeping pad in half and insert two of the sections into the bottom or seat portion of the chair kit. Next you insert the remaining sections into the back part of the chair. Finish blowing up your sleeping pad to the firmness you desire and adjust the support straps to the pitch you would like the back to be. Sit and relax.
Once you have your sleeping pad nested into the Trekker Lounge Kit you do not have to remove it. Simply unsnap the support straps and unfold the kit with the pad inside it. The air valve is accessible so you can adjust the air pressure for a more comfortable sleep.
When you are ready to hit the trail in the morning simply open the air valve to deflate the pad. You can roll up your sleeping pad without removing it from the Trekker Tounge Kit. Plus you can use the adjustment straps for compression straps to keep the pad and chair rolled up and attached to your backpack.
My wife and I each have one and have used them extensively for the last 15 years. They show age but keep giving us back support when we stop for tea on the trail and at night when setting up camp. I give them a five star review. I have found 3 other reviews. Two are 5 star and one is a four star. Why sit on the ground or a bumpy log without support for your back? Give your self a little pampering and buy aTherm A Rest Trekker Longe Kit
now before you forget and hit the trail without one.