Best Backpacking Cookware
The Best Backpacking Cookware would be the lightest and most versatile cookware around. I have seen many types of backpacking cookware but not all can be used on any type of heat source. What do you do if you run out of fuel for your stove or the supply hose breaks?
Versatile Backpacking Cookware
If your stove fails for any reason you will have to eat your food cold or start a fire. If you start a fire what do you support the pot with? Unless you brought a fireplace grate, you have to hang your pot. Does your pot have a handle in which to hang it with?
You also want items to be versatile. Your pot covers should have handles to allow them to be used as frying pans or skillets. I personally don't like handles that you have to attach to use. You can lose the handles or the way they attach can become damaged. I use the type where they are attached but you can remove them if you have too.
Space Saving Cookware
Another consideration when finding backpacking cookware it the room they will take up in your pack. If you use a set of pans they should be able to nest together. If the handles are not able to be turned in the handles will not permit the pots to be nested. Many hikers use just one pan and a cup for cookware. When Norma and I go backpacking we use 2 pots and a cup. The smaller pot doubles as a cup. All three are able to be nested. We also use the two lids as dishes. It works out pretty good.
Lightweight Backpacking Cookware
When I started backpacking titanium was only talked about in spacecraft design. That is why I still have a stainless steel cookware set. Stainless is heavier than titanium but the cost for titanium is much higher. If you are not concerned about saving ounces, stainless is the way to go.
Titanium per pound is more durable. It also is comparable to copper for heat distribution qualities. While titanium pots are thinner than stainless steel the strength is about the same. Titanium also has a non stick characteristic. If you are looking to go ultra light go titanium but be prepared to spend more.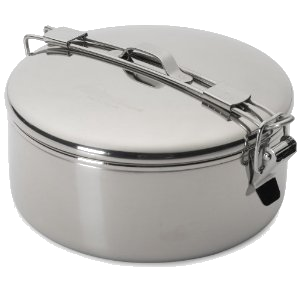 I searched high and low but cannot find cookware with loop handles for hanging and covers that double as frying pans. the closest I could find was the MSR 1.1L Alpine Stowaway Pot
The MSR Stowaway pot comes in 4 sizes: 475 ml, 775 ml. 1.1 L and 1.6 L. The pot handles can be used to hang the pot but the covers do not double as skillets. However you can use the covers as plates, but may be warm with hot contents. With the closeness in sizes and the way the pot handles extend beyond the pot itself you have to skip sizes to get them to nest. A 475 ml will not nest in a 775 ml but will in a 1.1 ltr.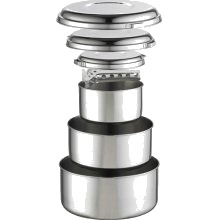 MSR has another set of pots with covers. The MSR Alpine 4 Pot Set is made of stainless steel and comes with 3 sized pots with covers: 1 ltr, 2 ltr and 3 ltr. I have no idea why they call it a 4 pot set. It comes with 3 pots with covers, a handle and a stow sack. The covers can be used as shallow fry pans and plates but the pots do not have handles to hang them with.
The whole set weighs 39.1 ozs but you can leave the larger pot and cover behind. The smallest pot is large enough to stow a fuel canister inside. Just make sure you put the fuel cell in a sock or padding to prevent the pot from getting scratched. The pots and covers can be cleaned with sand, gravel, and just about anything you can find in the woods.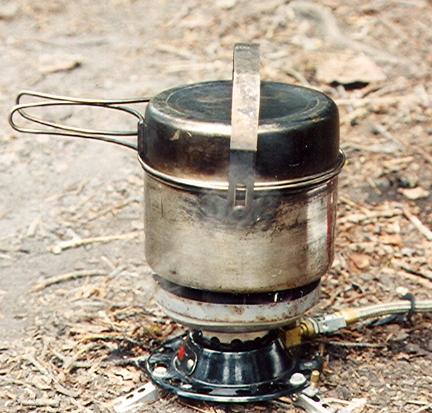 As I said before, I cannot find the best backpacking cookware that I purchased some 20 years ago. They are made of stainless steel, come in a 5 pot set from 1 / 2 quarts to 8 quarts. Each pot has a foldable loop handle and the covers have butterfly handles. I have a full set for car camping and the 2 smallest pots for backpacking. They are indestructible and have served me very well. If you see them at a flea market, grab them. They are the ideal camp set.
A vistor to this sight found the pots I have. Thank you Valerie.They are made by Oilcamp and constructed from 18/8 stainless steel. The covers have butterfly handles with a loop handle on the pot. You can hang the pots on branches ( such as in the header image ) or place then on a grill. My set has lasted over 20 years and beleive me when I tell you I do not baby my equipment. My set has been scorched, burnt, dropped and scoured with gravel and still keep on cooking.
I have done everything from boiling water to baking bread in them. They do weigh in at .84 ounces to 1.6 ounces but the extra weight is woth it. You don't have to worry about scraping off a non stick coating.
While I have a 5 pot set for camping, Oilcamp has 3 sizes of pots with covers. The sizes are 1, 3 and 4 quart.
Buy the Olicamp Stainless Steel Kettles Here