Waterfall Screensaver
You can click this image to view a sample of the screensaver.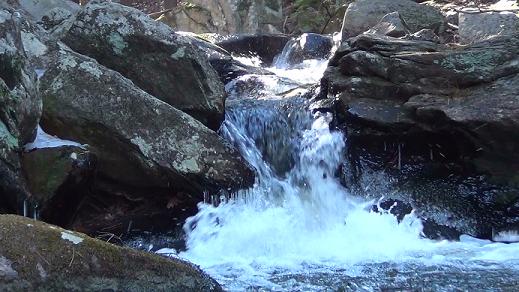 You need Adobe Flash installed to view the sample and to install the screensaver. During the installment if you do not have Adobe Flash you will supplied a link to install it.
I have converted this video of a waterfall into a waterfall screensaver for your pleasure. As you walk through the woods you can find many scenes that are peaceful and interesting. I have decided to take these scenes and record them for viewing later. This is one of the many small waterfalls that you can find in New England.
This particular waterfall can be found at Pearl Hill in Townsend Mass. Pearl Hill is a Massachusetts State Park that has a short trail that goes around a pond created by beavers. This waterfall is formed by a stream flowing into the pond. The video was captured in the early afternoon in March so you can see icicles hanging from a rock beside the waterfall.
You can download this waterfall screensaver for Windows Operating Systems by filling out this simple form.
After you submit your information you will be brought to another page. DO NOT CLOSE THAT PAGE. You will have to check your email for a confirmation link. When you click the link the free autoresponder will bring to to two advertising pages. Click the "No Thanks " links. You can close the third page. Go back to your browser and click the confirmation link in the middle of the page. Your screensaver installation package should appear.
A download confirmation window will ask you if you want to save or run this installation file. If you choose to save it an icon will be placed on your desktop to open the file after the download is completer. You can right click the icon and delete it after you have installed the screensaver.
After the file download is completed, select to run the installation program.The Waterfall Scrensaver will be installed, set up and selected in your desktop properties. After the install click " Finish " to close the installation box. To see how the screensaver looks, " right click " an empty spot on your monitor and select " properties ". Got to the " Screensaver Tab " and select " Preview ". Your new Waterfall Screensaver should appear. It will shut off once you hit a key on the keyboard or move your mouse.